New Strategy Tracker Feature
This feature allows the user to track the specific performance of different strategies within the journal. This can help a trader understand which strategy is working well and how. It can also be used to track any variable you want, it doesn't have to be used to track strategies only. Watch the video below to find out more about the strategy tracker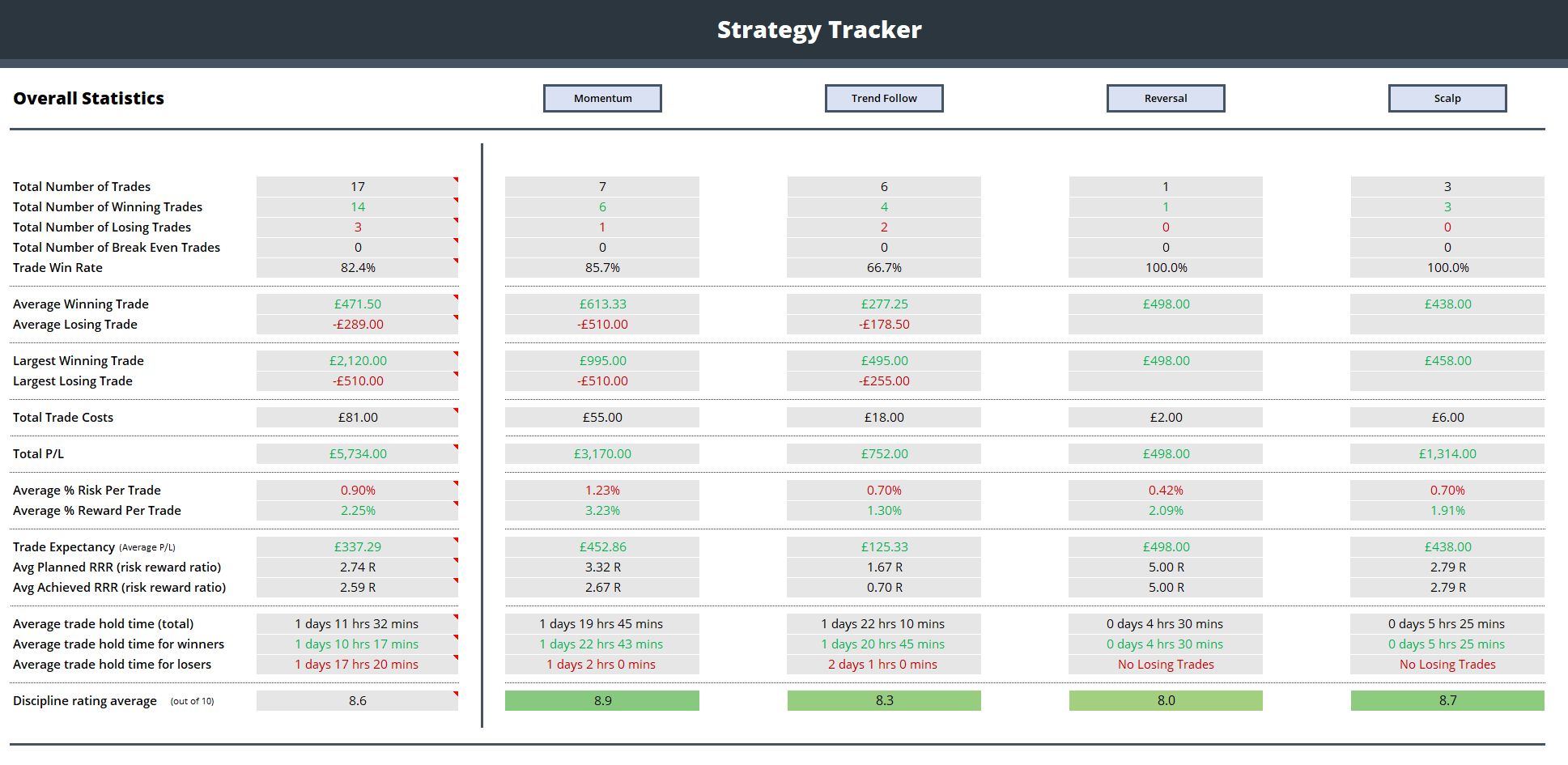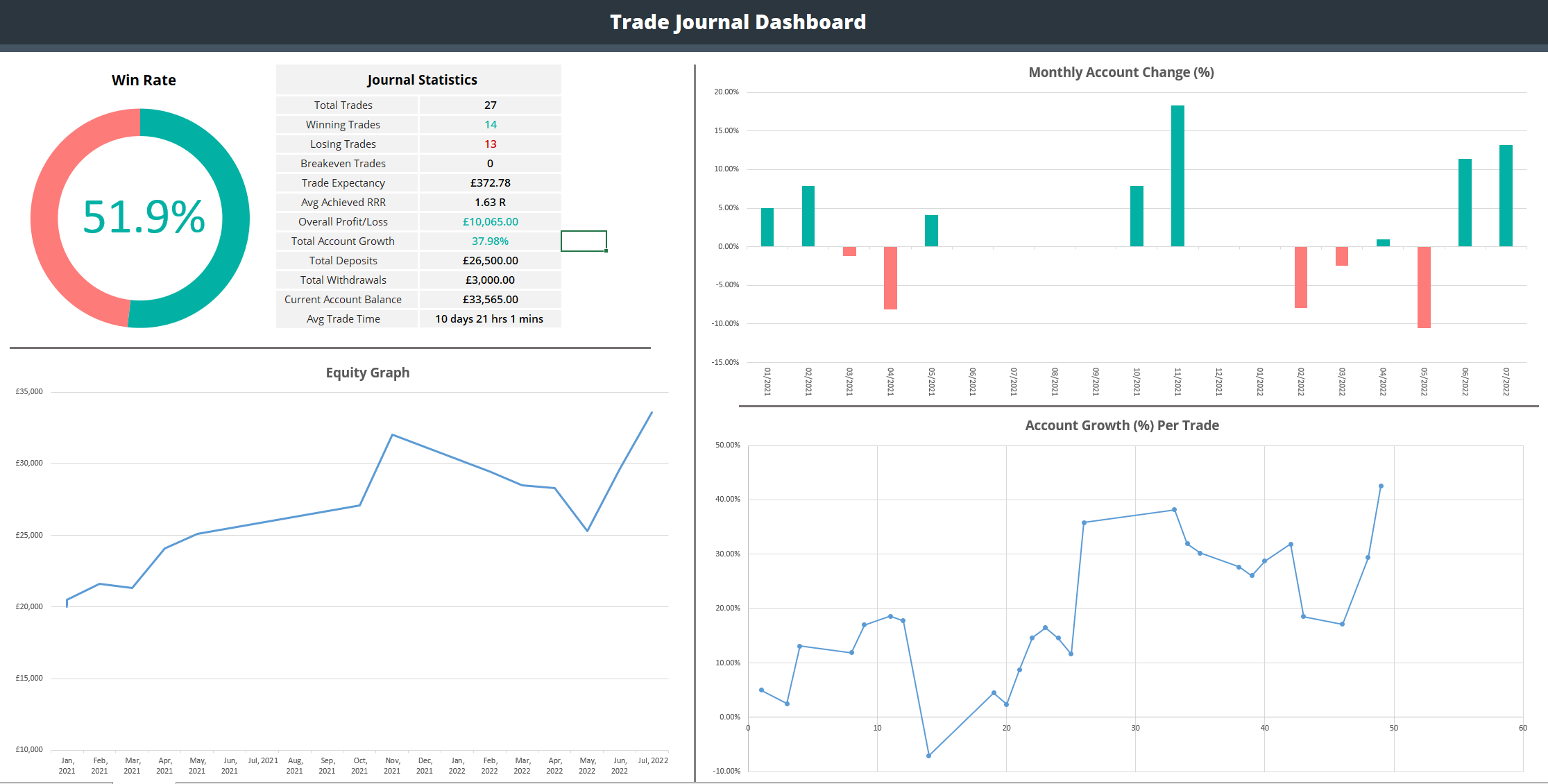 Responsive Dashboard
The journal dashboard automatically calculates key metrics from your trading data to give you a quick overview of your trading results both in statistical format and via different graphs
Detailed Graphical Analysis
The journal has a dedicated page for displaying all your trading data in various graphs. These include an Account Growth Per Trade graph, Trade Duration vs Result scatter graph and End of Month Equity graph among others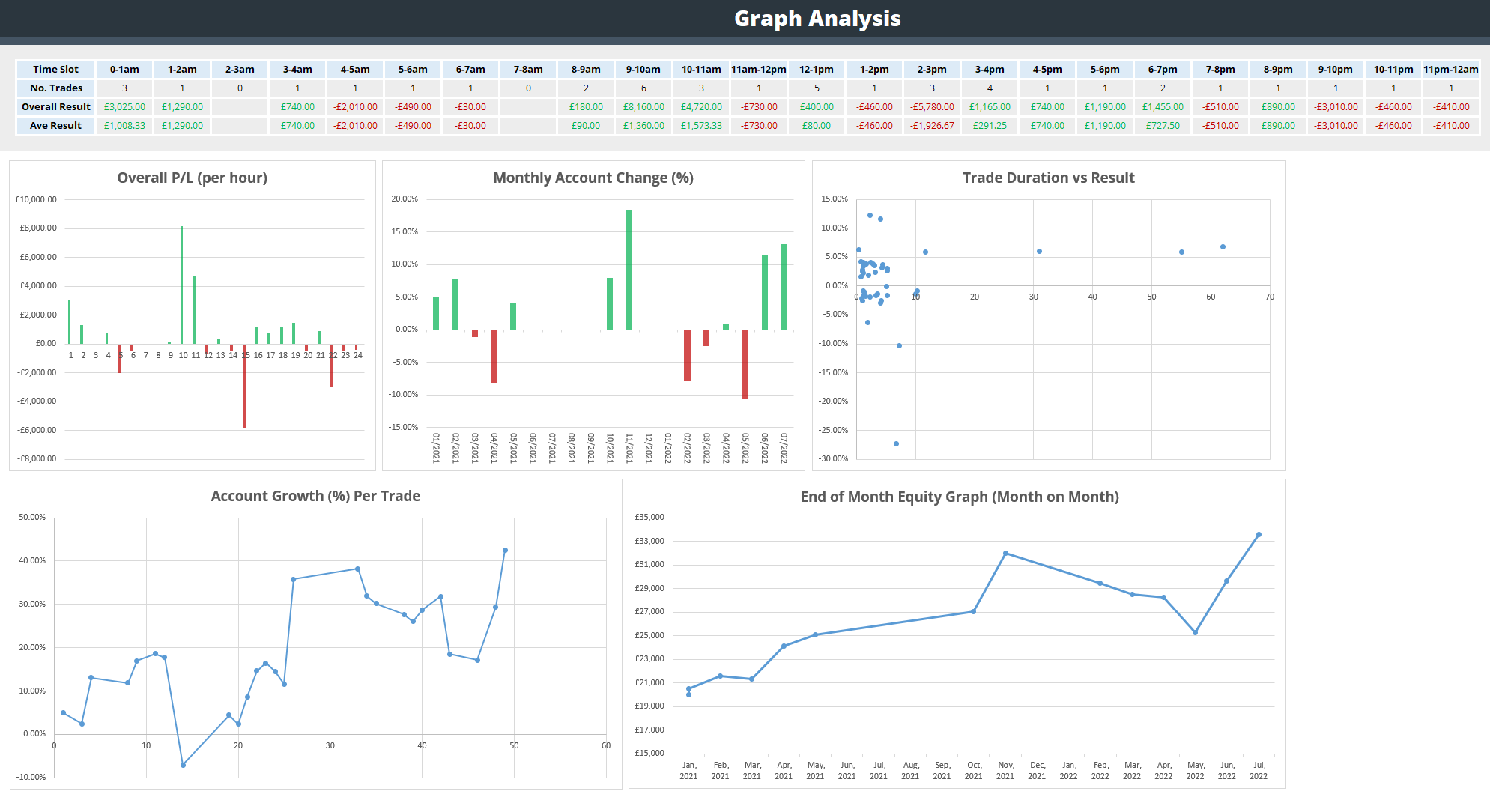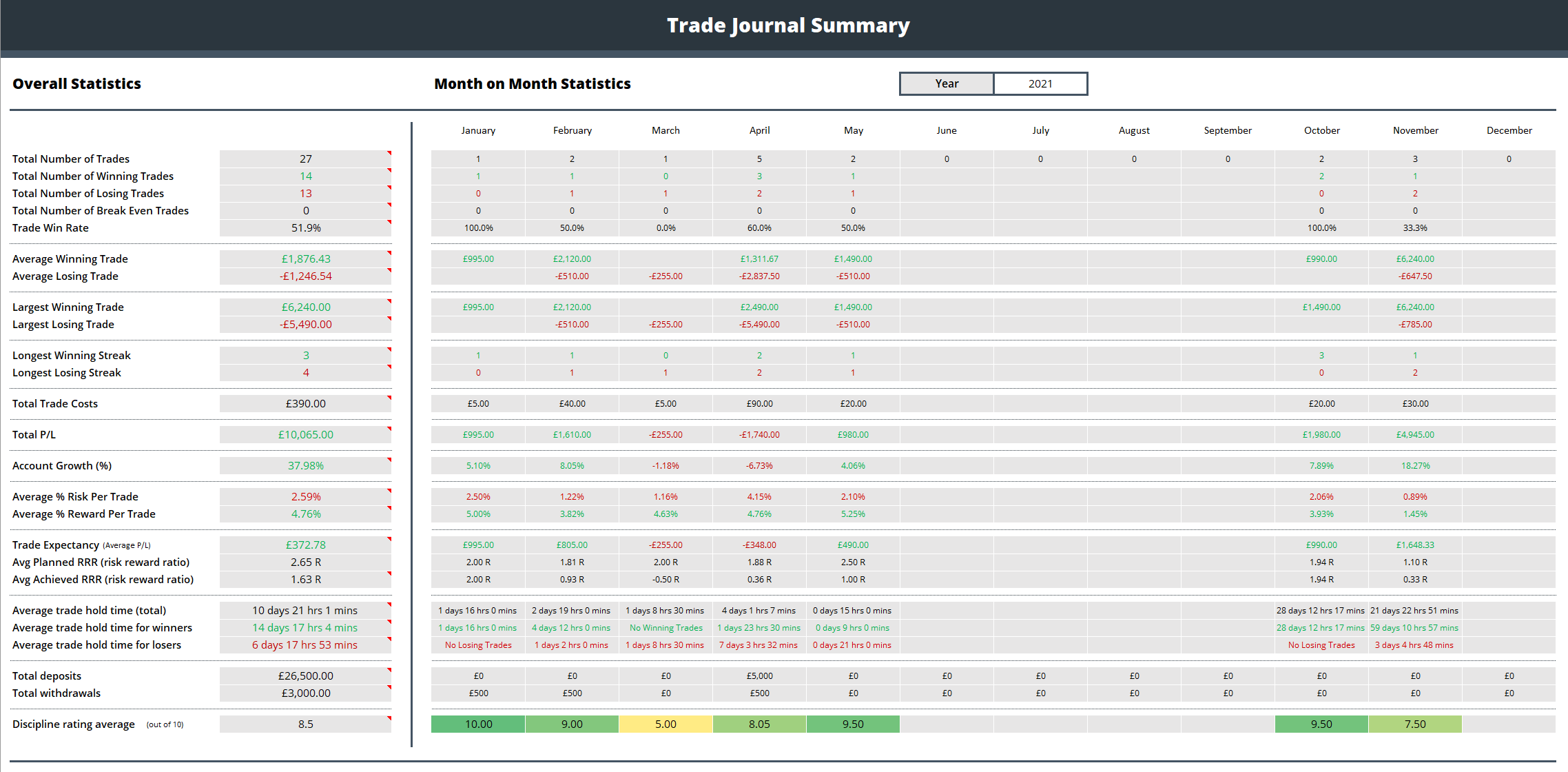 Examine Your Results
The journal has a dedicated Trade Summary page that breaks down all your trading data to calculate the details you need to know. These include simple metrics like number of trades taken, P/L and win rate. It also includes more complex metrics such as trade expectancy, averaged returned R multiple and average trade duration
All Premium Journal customers get access to the
Disciplined Trader Community where I offer full journal
support. This includes video tutorials for the journal, bug fixes, improvement suggestions and Q&As 👍
FAQs
Do I need Excel?
The journal is made in Excel so I can't guarantee it will work as it should in other spreadsheet programs
You can get Excel online for free (legally) by following the instructions in this video - Get Excel Online For Free
Are the Journals finished?
The journals have been thoroughly tested by myself and the community of traders using them. It's very unlikely you will find any issues with the journals but I provide support if you do. That's why you get lifetime access to the support community included with the purchase. Any issues reported in the community will be quickly fixed and updated.
Can I get a refund?
No, refunds are not offered on this product. Please make sure you are happy with what you are purchasing before committing to buying the product. A video demonstration can be found on this page as well as a comprehensive list of all the details about the journal.
You can also watch full run throughs of all the journal versions by watching this playlist of videos - Full Journal Run Through Playlist
What markets can these be used for?
There is a Crypto, Lots (Forex), Spread Bet and Shares version of the journal.
Do you show me how to use the journal?
Yes, there is a full comprehensive video series that goes through each section of the journal. You can also contact me via the community page should you have any other queries
I want to make changes to the journal, can I do that?
Yes but please be aware due to the amount of formulas in the spreadsheet it is quite easy to break. I'd advise having a good knowledge of Excel before trying to make changes to the formulas. Cosmetic changes are relatively easy to do if desired.
PLEASE NOTE
I can't make changes to each individual journal. The journal community section has a 'suggestions' section where you can make suggestions for future changes and updates. If this is then supported by multiple members of the community, I will look to add these requested features where possible.
This is NOT a custom journal service.
Check your inbox to confirm your subscription