Strategy Tester Demonstration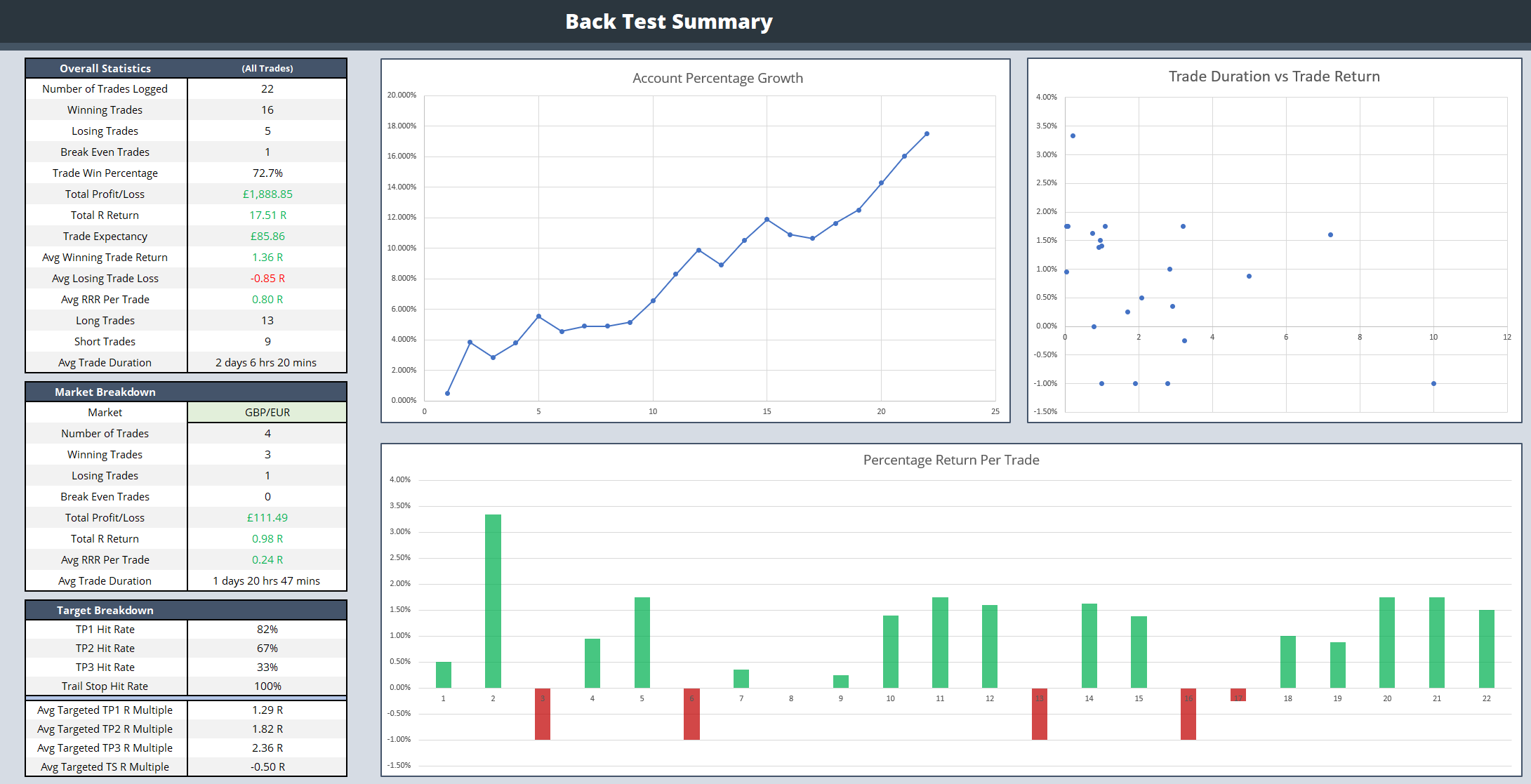 The 'Back Test Summary' page breaks down all the trades you have entered in the spreadsheet to give you keys statistics such as win rate, total profit & loss, trade expectancy, risk reward ratio, trade duration and more.
You also get statistics specific to certain markets if required and hit rate percentages for different targets.
On top of this you also get this information displayed in graphical formats.
The 'Trade Log' for the back test spreadsheet is very simple to use. It allows you test up to three different targets, a fixed stop loss, a trailing stop loss and moving your stop to breakeven at a specified point. It also allows you to record a screenshot for the trade setup and the trade exit for each trade if desired.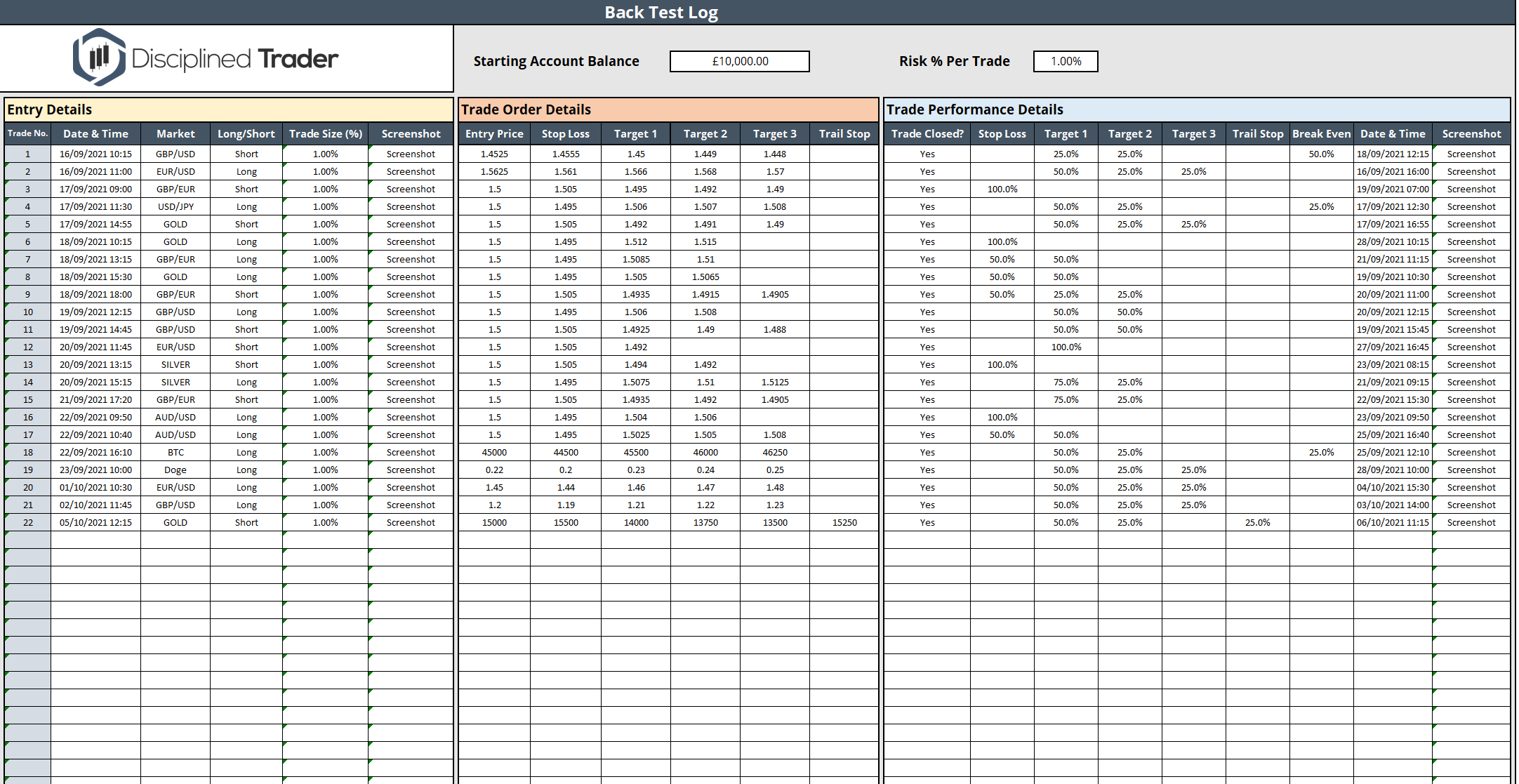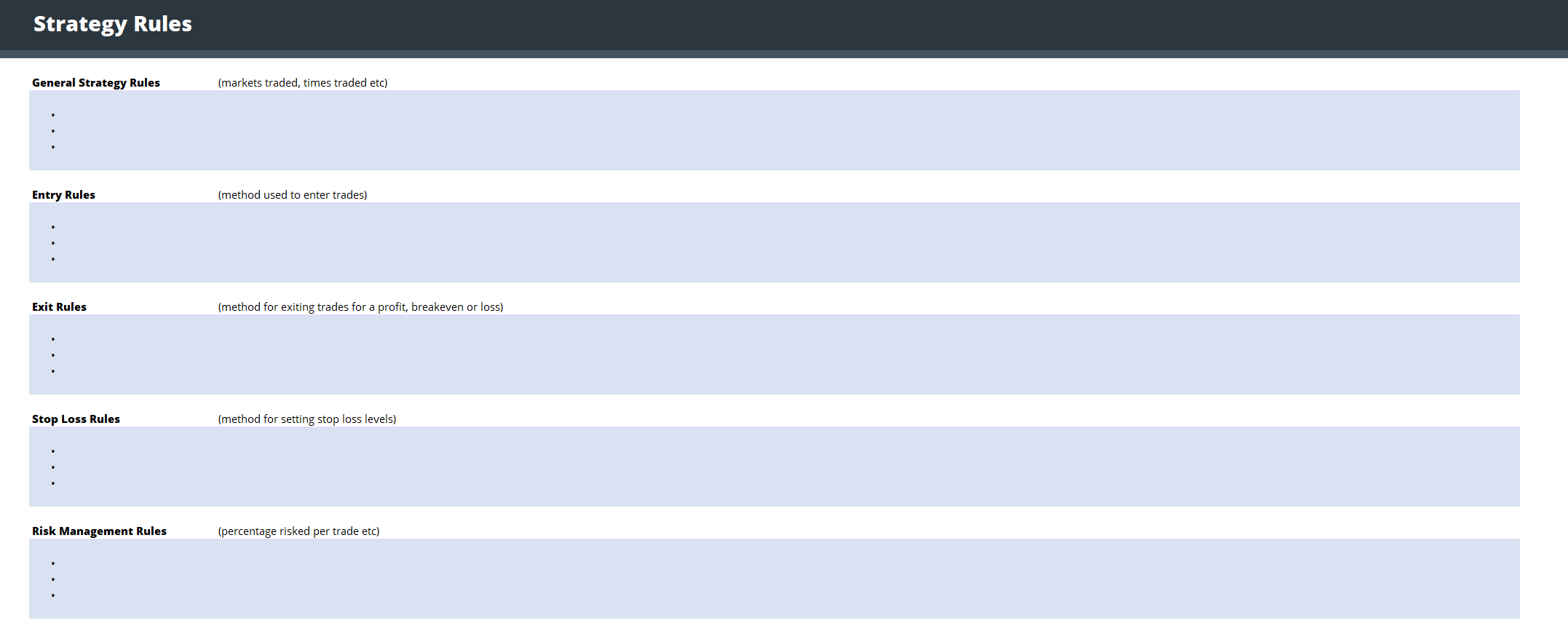 The spreadsheet also has a designated sheet for detailing exactly how your strategy works. This can then be referred back to if needed throughout the back test
As an added bonus, this spreadsheet also includes an annual return planner so you can see how the returns of the strategy you have tested would change your account over 5 years (should you achieve similar results).
This sheet also lets you record your monthly returns so you can see how close to the plan you are in reality.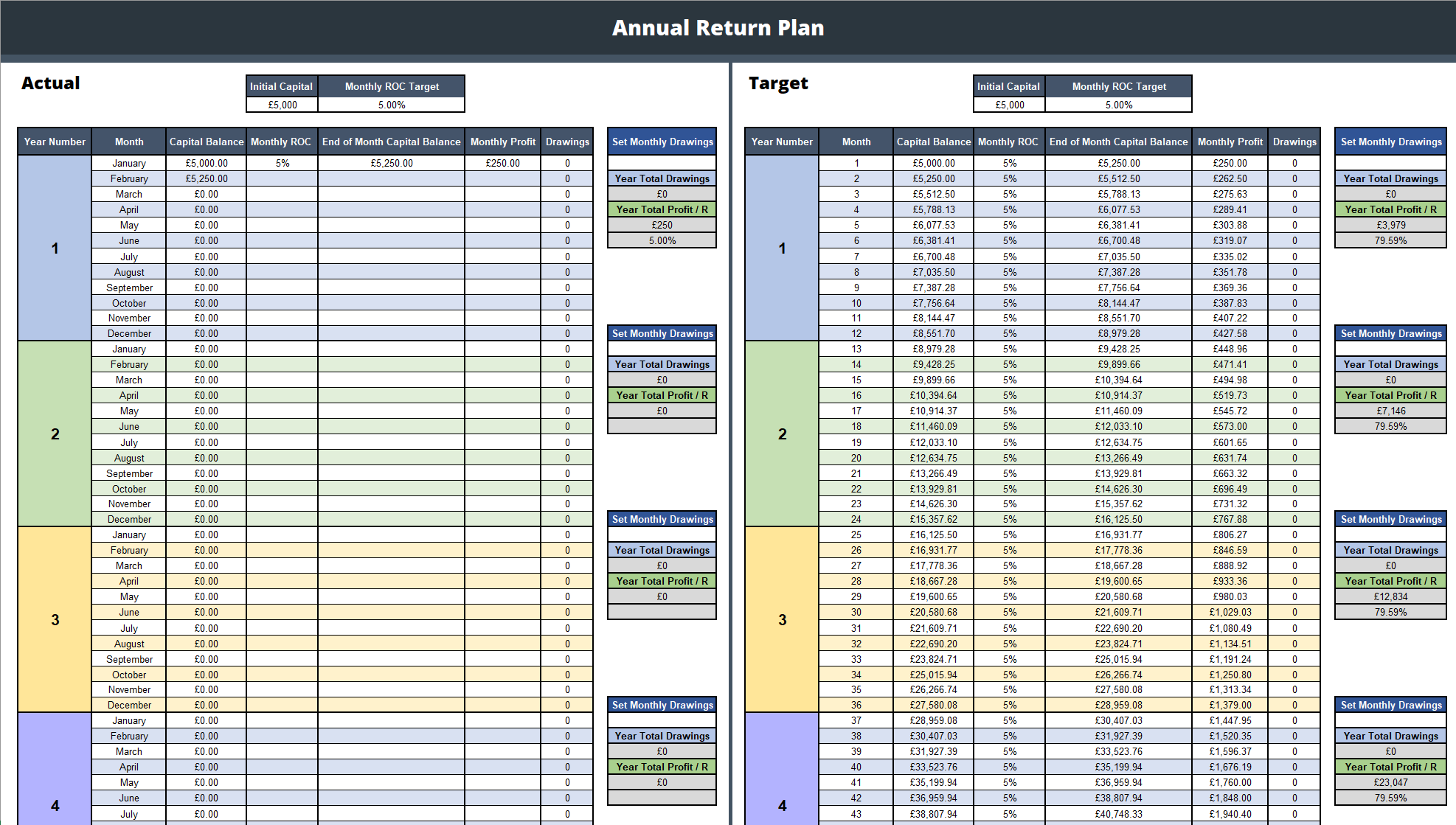 All Back Tester Spreadsheet customers get access to the
Disciplined Trader Community where I offer full journal
support. This includes video tutorials for the journal, bug fixes, improvement suggestions and Q&As 👍
FAQs
Do I need Excel?
The Strategy Tester Spreadsheet is made in Excel so I can't guarantee it will work as it should in other spreadsheet programs.
You can get Excel online for free (legally) by following the instructions in this video - Get Excel Online For Free
Is the Strategy Tester Spreadsheet finished?
The Strategy Tester Spreadsheet has been thoroughly tested by myself and the community of traders using it. It's very unlikely you will find any issues with the spreadsheet but I provide support if you do. That's why you get lifetime access to the support community included with the purchase. Any issues reported in the community will be quickly fixed and updated.
Can I get a refund?
No, refunds are not offered on this product. Please make sure you are happy with what you are purchasing before committing to buying the product. A video demonstration can be found on this page as well as a comprehensive list of all the details about the Back Tester Spreadsheet.
What markets can I test using this Spreadsheet?
You can test any market you want to. This spreadsheet will work for any market you will want to back test.
Do you show me how to use the Back Tester Spreadsheet?
Yes, there is a full comprehensive video series that goes through each section of the spreadsheet. You can also contact me via the community page should you have any other queries.
I want to make changes to the spreadsheet, can I do that?
Yes but please be aware due to the amount of formulas in the spreadsheet it is quite easy to break. I'd advise having a good knowledge of Excel before trying to make changes to the formulas. Cosmetic changes are relatively easy to do if desired.
PLEASE NOTE
I can't make changes to each individual spreadsheet. The community section connects all the spreadsheet users so you may find other Back Tester Spreadsheet users that can help with particular changes you want to make.
This is NOT a custom spreadsheet service.
Example Curriculum
Available in days

days after you enroll

Thank You - Download your Strategy Tester Spreadsheet
Available in days

days after you enroll

Strategy Back Tester Community Support
Available in days

days after you enroll

How to use the Strategy Tester Spreadsheet
Check your inbox to confirm your subscription